The integrations area allows you to setup clients (in the portal ) directly from FYI docs and then sync their documents between your Partner portal and the files you have stored in FYI docs. It also allows you to get documents signed through your Partner portal straight from a link in FYI and get docs signed in the portal directly synced to your FYI documents area.
The syncing of documents signed and stored is a great way to share files and documents with your clients and also reduce the double handling of information.


Before you begin....


1. You need to contact FYI and have them turn on the app capability with myprosperity. Contact information support@fyidocs.com
2. Once the myprosperity App is enabled you will see a settings COG next to myprosperity.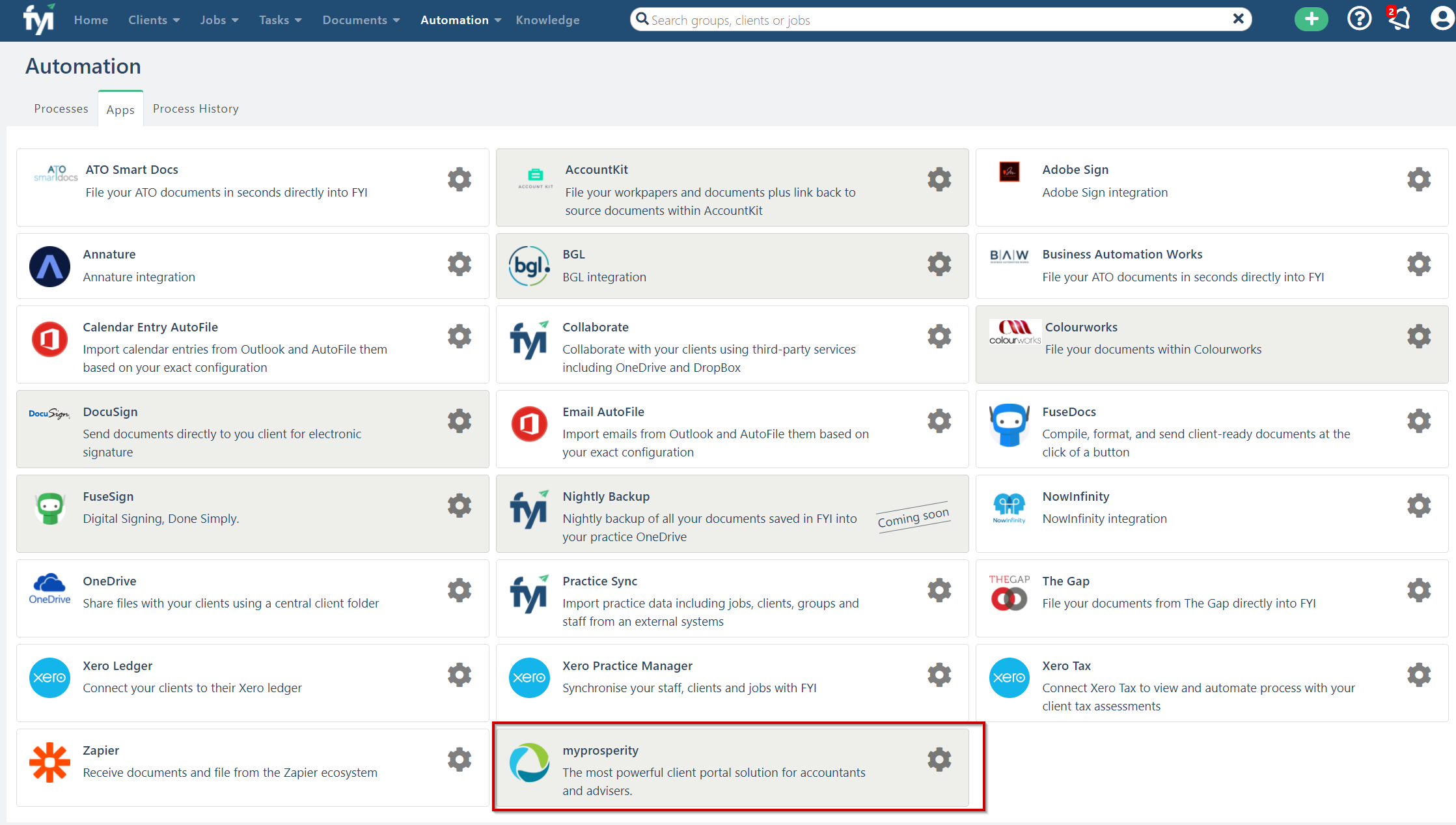 3. Ensure you have appropriate access to the integration page and your FYI client files.
Permissions
The Sync between your partner portal and your FYI docs will be at a Firm Level.
The partner portal credentials added during Step 3 will have all imported client info and be the only one able to import.
What data gets imported/ exported?
Once the integration between FYI docs and your partner portal is successful, documents can flow from and to both systems. Digital document signing can also be done for FYI docs from the integrated partner portal.
How to link your FYI docs account
1.In your FYI docs Automation > Apps are click on the cog in the myprosperity app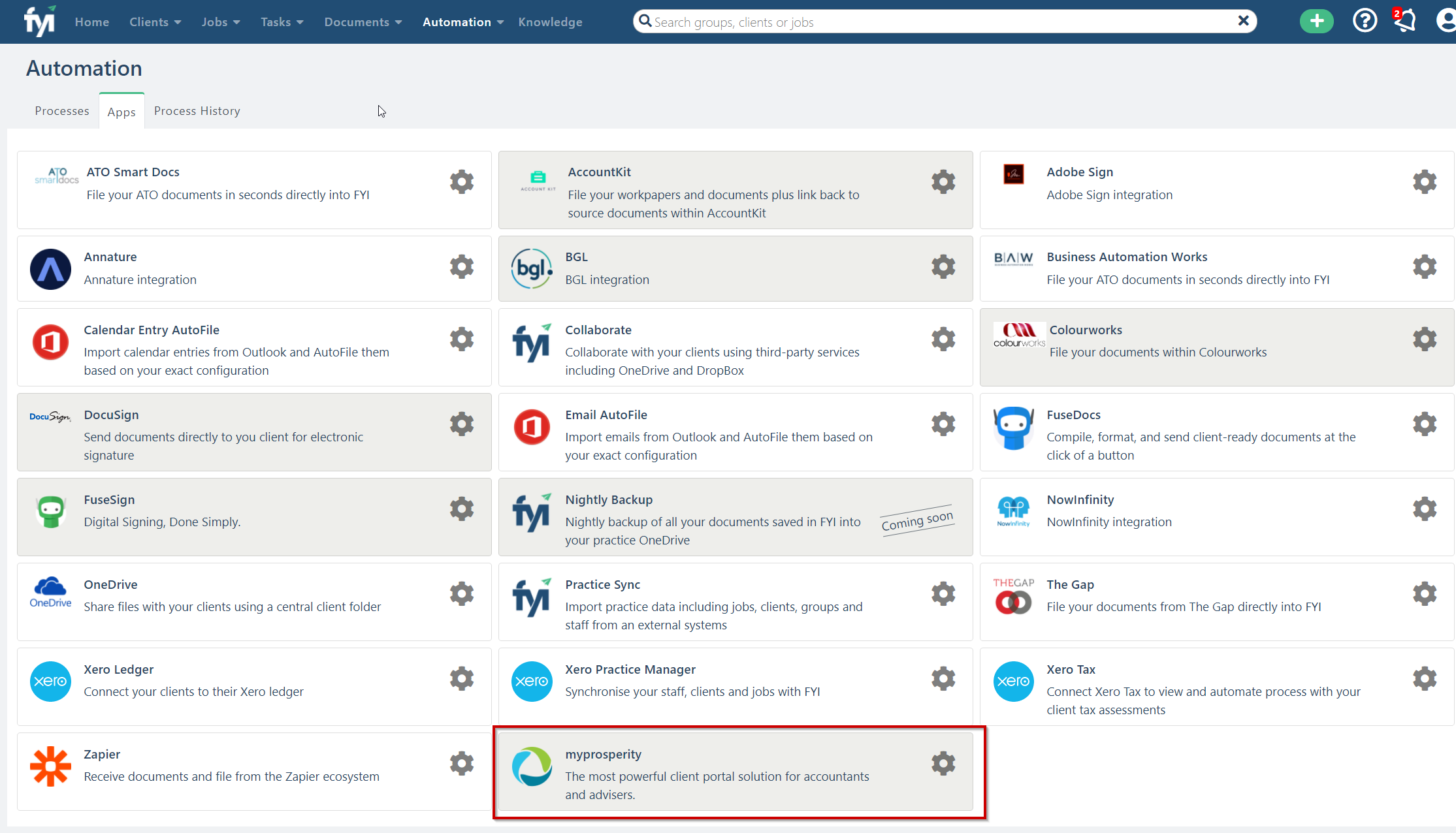 2. Click connect in the myprosperity settings


3. You will be asked to use your partner portal login (reflected at the top left hand side of the page) then a FYI Docs permission page appears, click 'Yes, Allow'.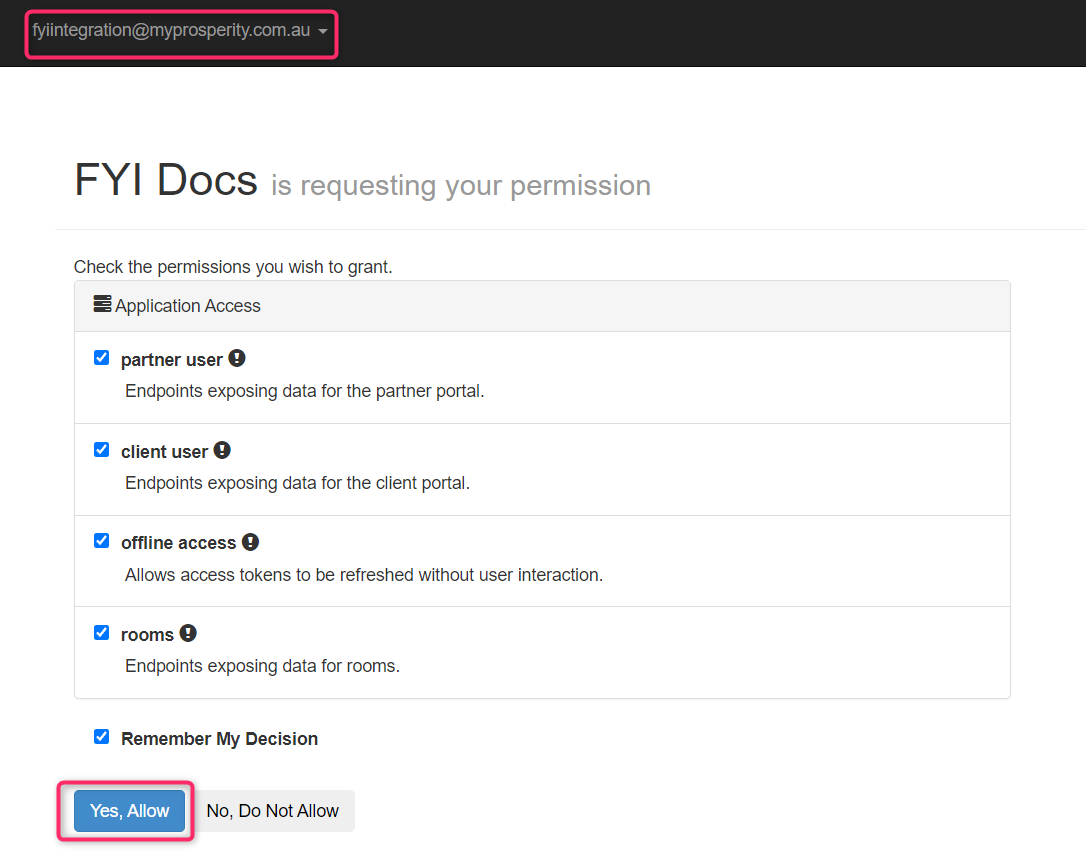 4. Go back to the Automation>Apps > myprosperity cog.



5. Once this is completed, go to your Partner Portal > Configure >Integrations and click Manage on FYI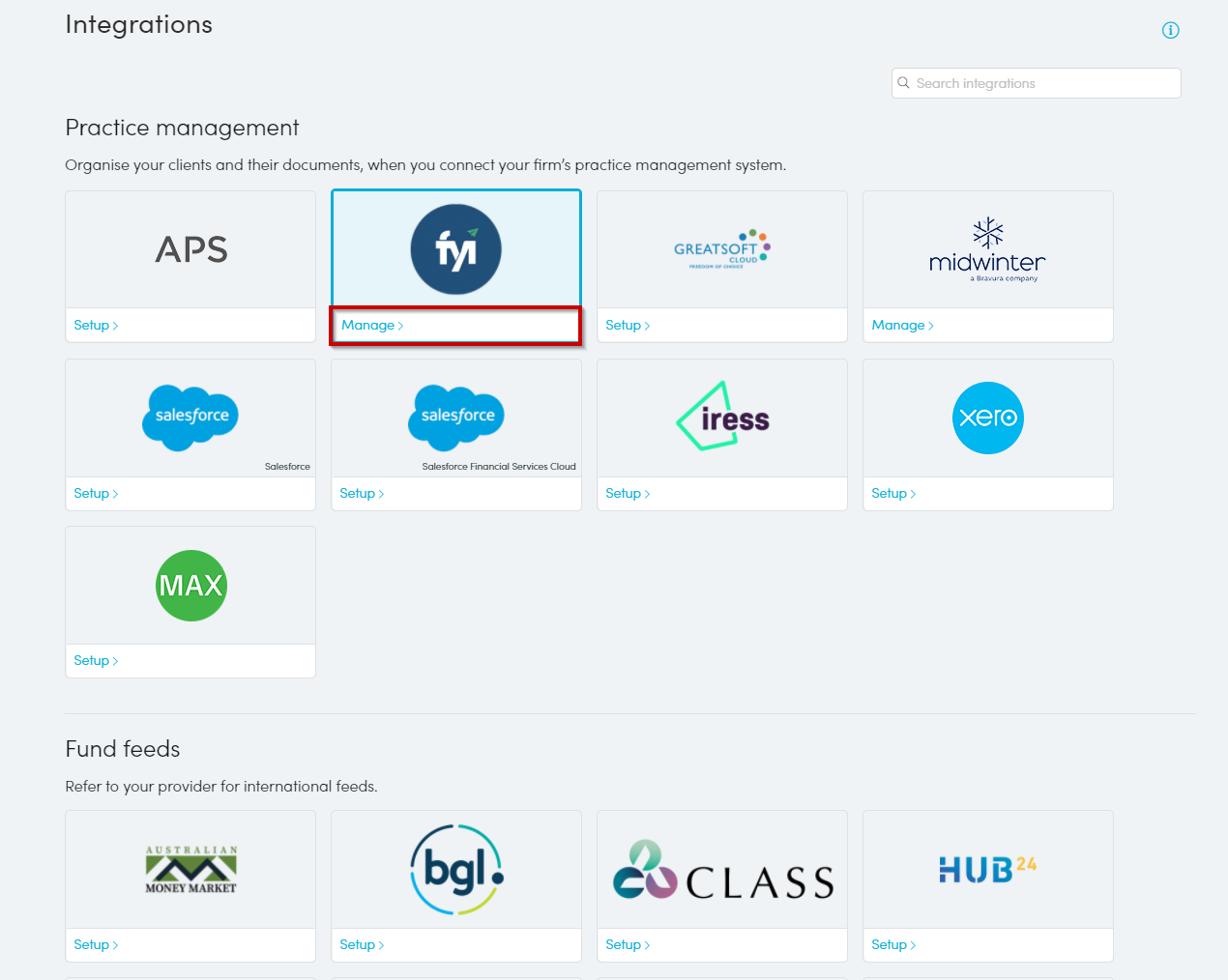 6. This will take you to a Review and Import data. Click on this to view clients to sync.
Note : if your clients already exist in your Partner Portal, they will then just sync, otherwise if they are not already on the client list, the syncing from FYI docs will create your client in your portal.



7. Tick the box next to the client names you would like to sync to your Partner Portal. Click 'Save and Continue'.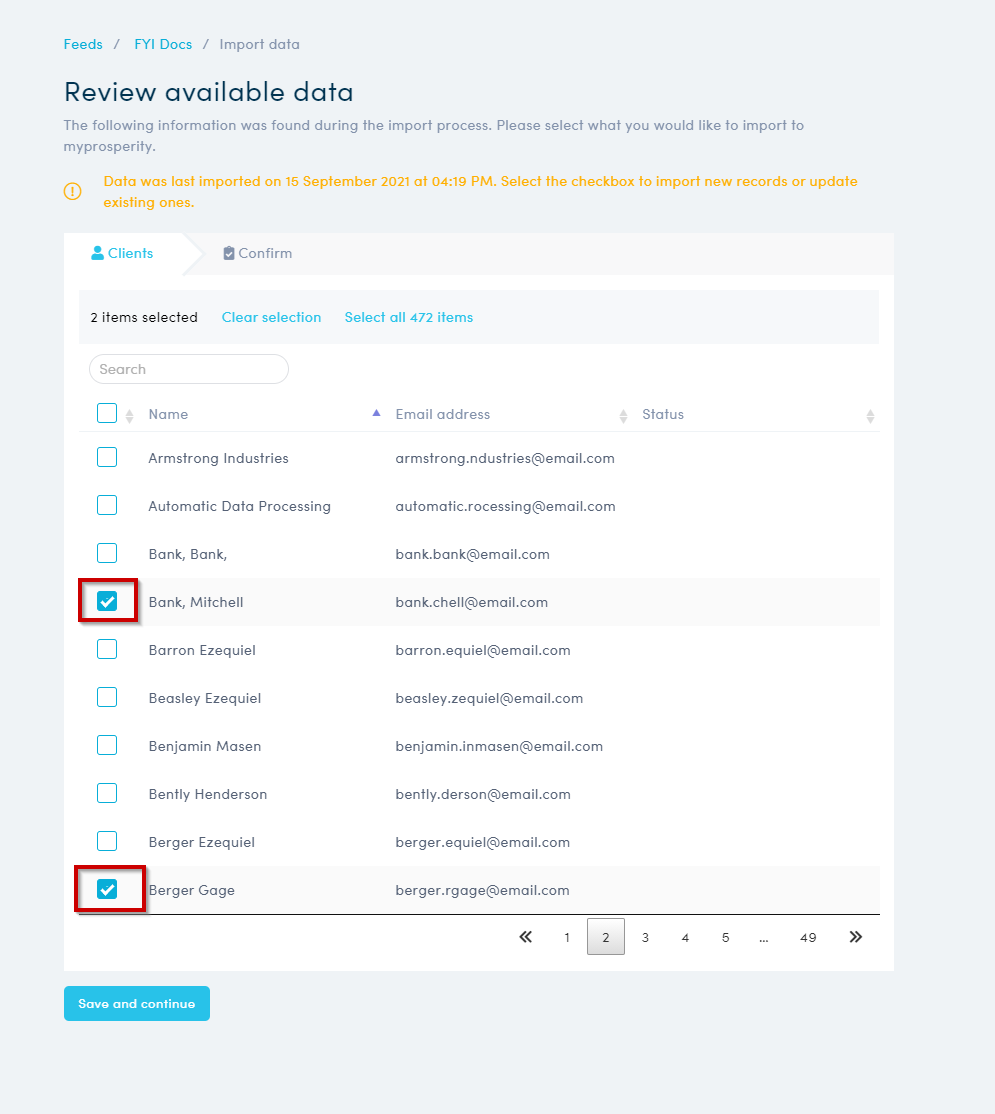 8. A review screen allows you to review the clients you have chosen to sync and if all is good, just Confirm and Import the data.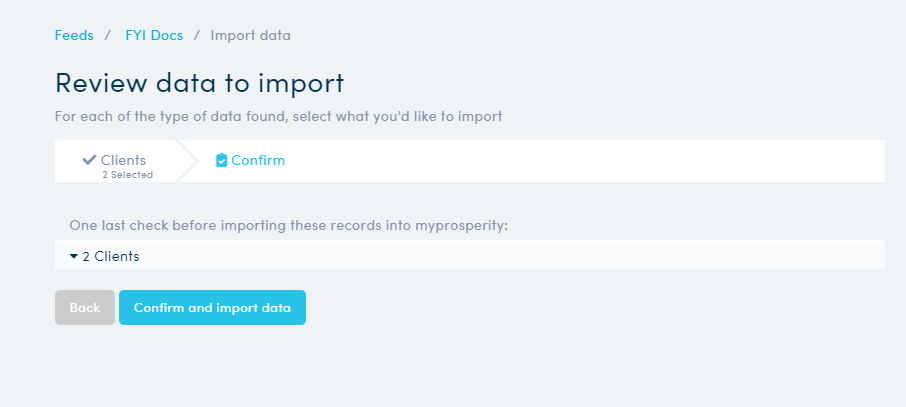 9. The system will take a few minutes to add clients and sync the portal. At this stage no documents are integrated, just the connection is created for the clients chosen.

10. Once completed, any new clients will be shown in the client list (names will appear as Lastname first, Firstname last) and when clicked on the client name, you will see that they have been linked to FYI Docs.