Once you have connected your APS to your partner portal (instructions here), you are now free to Import your complete client list or individual clients and their contact details. This import of client data helps reduce the need to double handle client details like Name, email, telephone and address.
To import data from APS:
1. In the Configure > Integrations >APS>Manage area, click "Import Data"
2. The system will add a Connecting image, you can refresh the page to see when the connection is complete. The system will send you an email upon completion to view the imports available.




3. Once page has been refreshed, a Review and import data box is available. Click to view data


4. Before you select the clients in the list, decide if you would like to import client's contact details as well, such as address, telephone number etc. If you would like that data imported into your partner portal, click the toggle ON. If you prefer only names and email information, then you can leave it on OFF.
5. Select the clients you would like to import by clicking on the box next to their name. Clients can also be searched for by name in the search box. Once all client that require import are selected, click Save and continue.



7. A confirmation screen displays all clients you have selected. Click the down arrow near the Client to view the full list. If agreed, click Confirm and import data.





8. The system will take a couple of minutes to import the information. An email will be received once the data is ready to be viewed in the portal.





9. Once the data has been imported, in the client list you will see a 'New' next to the clients' names who have been imported.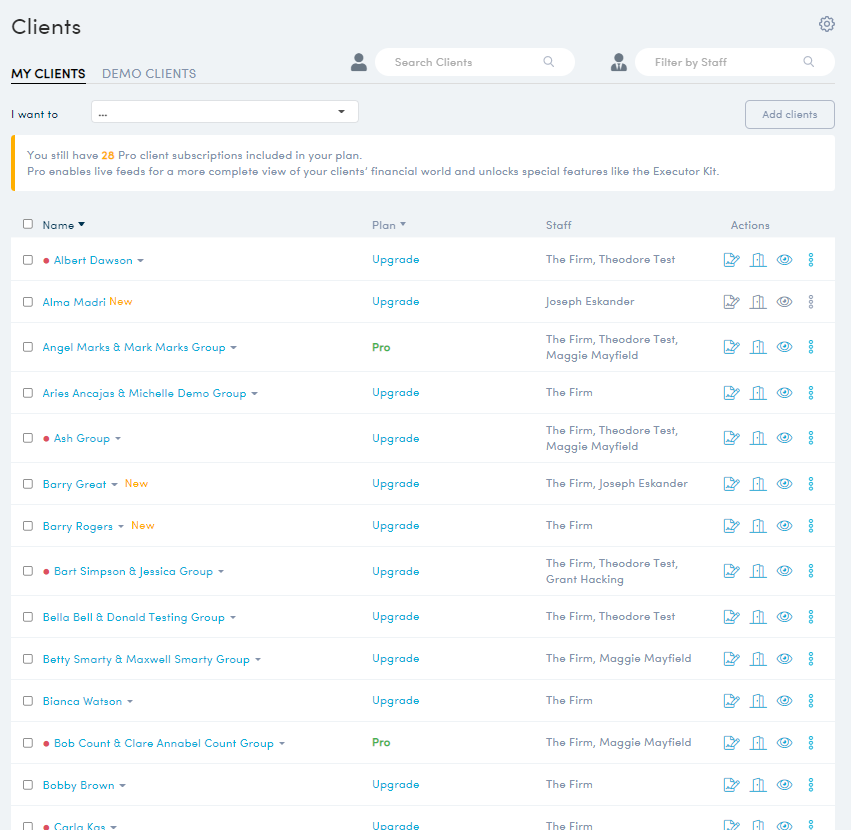 10. Click on the client's name and you will see a Linked to APS in the drop down area.




11. You can then go to the client portal, and view the client details in the team section of the portal.




Notes:
1. If the client was not yet a client in the Partner Portal it will have been created.

2. Amendments to the client details can now be done in APS and a reimport of the client will adjust the info in your partner portal.


3. If there is an individual or entity in a group in APS with this client, they will be added to the client portal as a family member - but designated as "Other" with no access.
4. If the individual or company has their own unique email, they will also receive their own portal. For a spouse it is recommended you merge that portal that has been created.