So, you've set your client up with a Starter subscription and sent them an invitation to begin using the portal. You may wish to use it just for electronic document signing, digital form information collection or just to offer the app for communication and organisation. You may also want to use the full capabilities of the portal to understand the clients' whole of wealth.
NOTE: Your partner plan includes unlimited free Starter subscriptions for your clients.

Starter subscription features:

One-time sync of Bank and credit card feeds
One-time sync of property and motor vehicle valuation data
To-Dos
Document storage
eSignatures
Reports (wealth snapshot, cashflow, tax, etc.)
Things to consider when using a Starter subscription for completing digital forms:


1. Client information can be requested via the form.
2. Clients can complete the form and attach documents.
3. Client can add Assets and Liabilities via their institution's online log in credentials within the form. This will access a one time data sync and pull through live values.

What happens to your client's asset & liability information pre and post 30 days: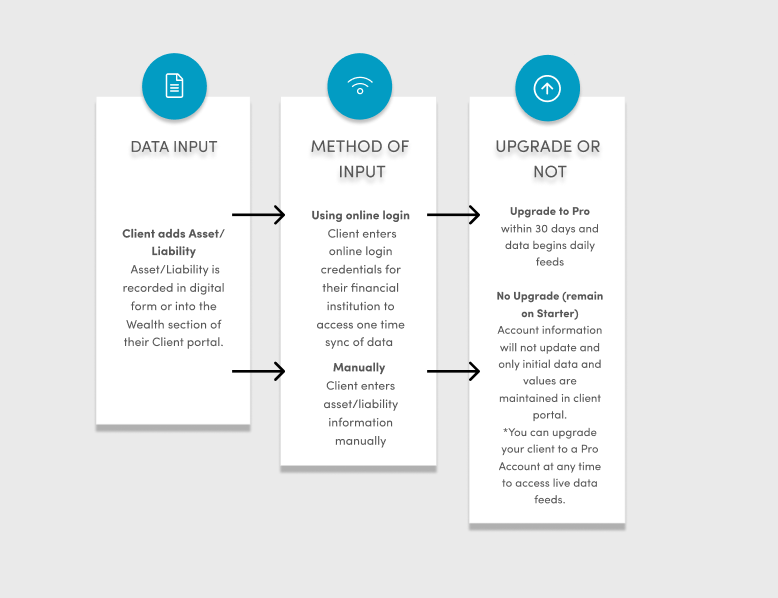 One Time Sync explained:
Starter subscription clients are able to use their login credentials to add items such as bank accounts, credit cards, superannuation accounts and portfolios. When login credentials are entered, this triggers a one time sync of data. Transactional data will flow into the Cashflow section of their portal. This feature gives the client an idea of what the portal will look like if they were to upgrade to Pro with live data feeds for their accounts pulling in information daily.





This one time sync pulls through the current balance of the accounts as well as a snapshot of their historic transactions (ranging from 30-90 days depending on the institution).




As these accounts are a one time sync, they aren't expected to update after the initial sync. This means that any new transactions or changes to the account balance won't be reflected moving forward.



The client is able to upload historic transactions for their accounts via a CSV file upload, however the balance of the account isn't editable.




If the client is upgraded to Pro within 30 days, it's possible for them to re-enter their online credentials for the accounts to trigger the data feed and update daily moving forward.


If the client has remained on a Starter subscription for longer than 30 days and then upgraded to a Pro subscription, it's recommended that the client deletes all accounts initially added with the one-time sync and re-add them. This ensures the log in credentials are re-entered and triggers the daily sync of data moving forward. Historical information could be as much as 365 days worth depending on the institution.
Related articles
Client subscriptions: Pro subscription explained