Your portal allows you to provide your clients with an efficient, effective and easy way to sign multiple documents through the default signing provider, Onespan.


When uploading a document for digital signing, sometimes a generic error message can appear. This error suggests that something about the attempted request isn't acceptable or supported.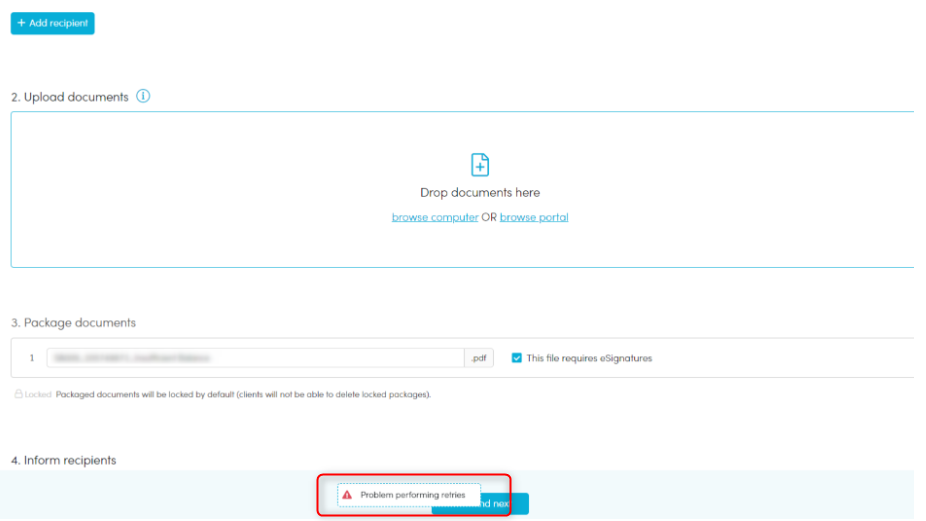 Reasons error may occur:
The PDF file/s contain editable fields.
For example, the file may contain fields where the recipient can click to add information
Solution - Ensure you have a flat PDF -non editable


The email address of one of the signers has a character that is not supported.
For example, client+test@mypdemo.com. The issue with this email address is the '+' symbol.
Solution - An email address that does not have special characters is chosen.


The PDF file/s are password protected.
PDF files uploaded have a password protection inhibiting the system from opening up directly.
Solution - Ensure you have removed all password protections


The PDF file/s feature a character that is not supported.
For example, a QR code within a document is not accepted.
Solution - Review the PDF file and ensure all characters of an accepted
manner

Once all issues have been rectified in the PDF, re-attempt the upload again.
Should the error persist, please contact
Support
for further assistance.